Try Our Fabulous 9 Hole Par 3 Course!
"As a golf professional who has played the best courses in the Midwest & Florida, I find this Par 3 Golf Course fun and challenging. As a student of golf-course architecture and design, I see some of the same elements in the golf course here as in for instance, Crooked Stick or Shore Acres. The small greens here make framing the holes behind carved-out recesses, under tall trees and shaped into the surrounding mounds easy. Visually, this is a very surprising and appealing short course.
There was an obvious intention to think this place out. That is to say, the golf course was a priority in creating the Virginia Golf Center. Your game will improve on this little gem if you play for score each time out."
- John Wright, PGA Member
"This course was a real pleasant surprise!!!"
-Jim Sills, RGA Student
"Absolutely LOVE hitting a bucket and playing 9 holes...and being done in under 2 hours!"
Frank O'Rourke, Avid Golfer
Scorecard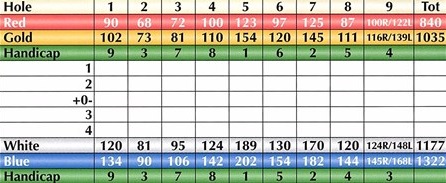 Gallery